AXILLARY HYPERHYDROSIS or underarm sweating
Physiology of sweating: The main role of sweating in the human body is to cool the body.
The heat is removed from the human body:
Through the blood (to the lung area),
By convection (breathing),
And especially by evaporation of sweat on the surface of the skin.
Sweat is secreted by two types of sweat glands: the eccrine glands which are distributed all over the body, many of which are in the palm-plantar region - sweaty hands - and the apocrine glands that are found rather in the armpits, navel or genital areas.
The main functional disorder of the sweat glands and in particular that of the apocrine glands is axillary sweating (or hyperhidrosis). It is a psychic sweating caused by a mental or emotional stimulus which can reach significant or even disabling proportions.
The sweat is odorless when it is emitted. However certain substances present in apocrine sweat, under the effect of the bacterial flora present on the surface of the skin, an enzymatic degradation. On contact with air, oxidation causes rancidity, resulting in the production of foul-smelling volatile products.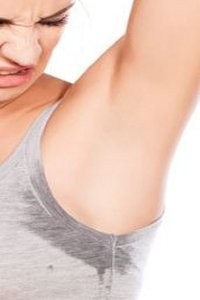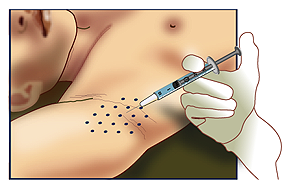 Problems of everyday life: Many people often young suffer from excessive sweating especially in the armpits when it is hot or when stress or emotion wins them on any occasion.
Often this is very badly experienced and considered a fatality. In addition, the added stress only makes the problem worse. It becomes a real hell when you no longer dare to raise your arms because of unsightly halos.
We no longer dare to dress in colorful clothes, and the phenomenon gets carried away as soon as the first spots arrive under the arms.
Hyperhidrosis causes a very strong psychological repercussion which can be at the origin of a major socio-professional handicap. Many also believe that large halos are only the result of poor hygiene which only increases moral trauma.
In fact hyperhidrosis is a chronic pathology (one cannot say a disease) which is characterized by an excessive production of sweat by the sweat glands. It is not inevitable and it can be treated very well!
When to consider a TREATMENT
You are sweating more than usual.
You are constantly sweating through your clothes.
Your mood or emotional well-being is negatively affected by your sweating.
Your daily routine has been affected by sweating.
Hyperhidrosis can be treated to help relieve sweating and the problems it causes. Contact us today to find out more!
What are my OPTIONS to treat hyperhydrosis
The center offers BOTOX as a treatment for underarm hyperhidrosis. BOTOX is an injectable neuromodulator. This means that it can block the nerves from interacting with the muscles to give them signals to perform certain actions. When the armpits are selected as the treatment site, BOTOX can help block and prevent the glands from sweating in abnormal amounts.
What can I expect from BOTOX TREATMENT
Le BOTOX est une méthode non chirurgicale et peu invasive pour aider à réduire la transpiration excessive. Ce traitement injectable est effectué en ambulatoire dans le confort de notre centre à Genève. Il n'y a pas de temps d'arrêt défini après la procédure, ce qui implique simplement une injection mineure effectuée par un membre de notre équipe.
Le Botox a la capacité de diminuer la quantité de sueur que vous transpirez pendant six mois au maximum, mais les résultats varient. Des traitements supplémentaires peuvent être nécessaires pour atteindre et maintenir les résultats que vous recherchez. Un membre de notre équipe vous aidera à décider si c'est la bonne méthode pour vous de traiter votre hyperhidrose ainsi qu'à élaborer un plan de traitement pour vous aider à rester au sec
PLAN YOUR CONSULTATION today
There is no need to settle for a life with embarrassing excessive sweating. Contact us today at our beauty center in Geneva and schedule your first appointment for the treatment of axillary hyperhidrosis.
TREATMENT
The radical treatment of hyperhidrosis has arrived with botulinum toxin, the same product as that used to treat wrinkles in the upper face.
More commonly called botox, this product eliminates almost any excessive sweating of the armpits.
The result is really effective. The injections are given in the armpits where sweating is greatest.
Ten to twenty subcutaneous points are injected into an area of 10cm by 10.
It is today the only real effective medical treatment, light, excessive sweating under the arms.
The injection is almost painless with Emla (anesthetic cream) and without major contraindication. The effect starts from the 4th day approximately and becomes maximum after a week.
The treatment lasts 6 months and more as the treatments progress.