ULTHERAPY, face and neck lift without surgery
ULTHERAPY: LIFTING without surgery
ULtherapy: 10 years of hindsight - More than 1,500,000 cases treated worldwide.
It is a non-surgical ultrasound technology used to boost collagen production and smooth the skin. It uses focused pulsed thermal energy to lift and tighten the skin of the face, neck and chest. It improves the appearance of fine lines and wrinkles on the face and neck.
What is ULtherapy?
Ultherapy is a non-surgical alternative to facelift. It is used to counter signs of aging such as sagging skin and wrinkles on the face , neck and chest as well as sagging of the eyebrow area. The FDA approved technology stimulates the production of new collagen, which should create a more youthful look overall.
The popularity of non-surgical skin tightening procedures such as ULtherapy has grown steadily in recent years, with an 11.6% increase from 2015 to 2016.
How does Ultherapy work?
Ultrasound therapy targets areas under the skin with focused ultrasound energy, using the right temperature to support the regeneration of new collagen. The thermal energy of the applicator is directed to different depths, affecting three layers: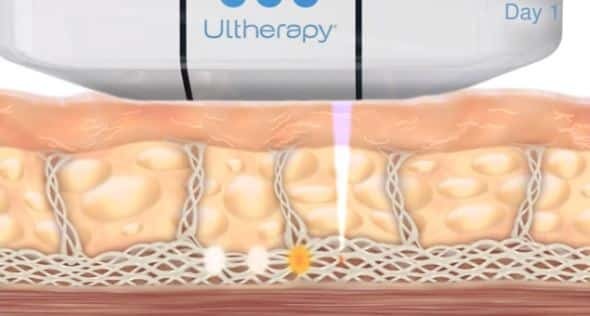 Muscles
Skin
Superficial wrinkles
Ultrasonic energy stimulates collagen and elastic tissue, which should result in firmer skin, less sagging and fewer wrinkles. This procedure is used when hyaluronic acid injections become of little use
A single procedure with an average duration of 30-90 min (depending on the areas treated) is necessary and allows to obtain natural, perceptible and lasting results which appear after two or three months.
Results may vary from person to person, other sessions may be necessary for some patients.
THE EFFECTS OF ULTRASOUND TREATMENT
They have 2 main phases:
An immediate inflammatory phase where the skin is red and tight: this skin tension is due to the heat and the twisting of the collagen and elastin fibers.
A scarring phase of deep skin reorganization, obviously delayed, during which the production of new collagen is developed, which lasts 3 to 6 months.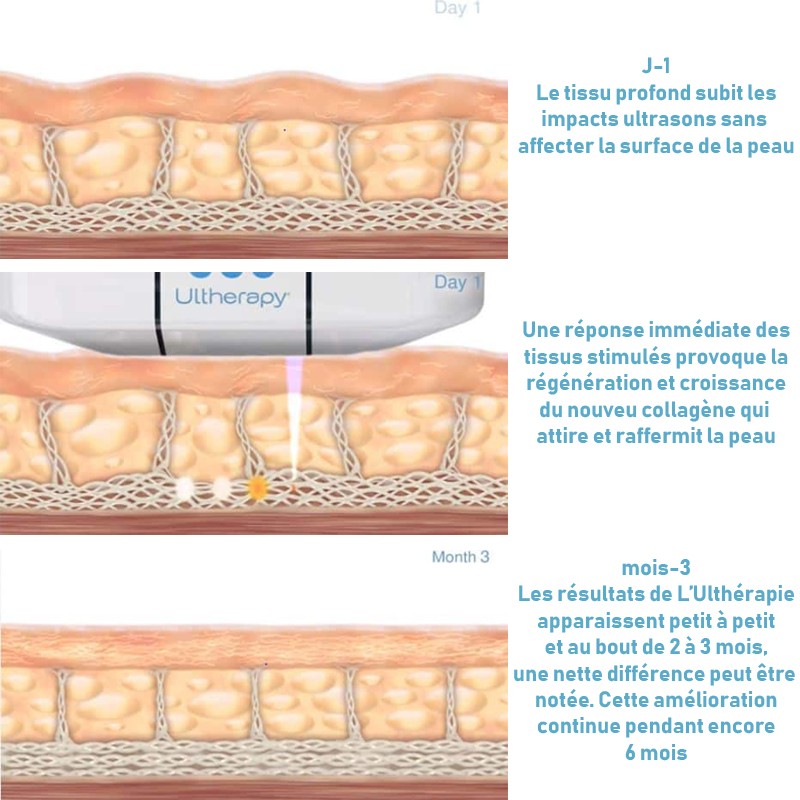 SAFETY of ULTHERAPY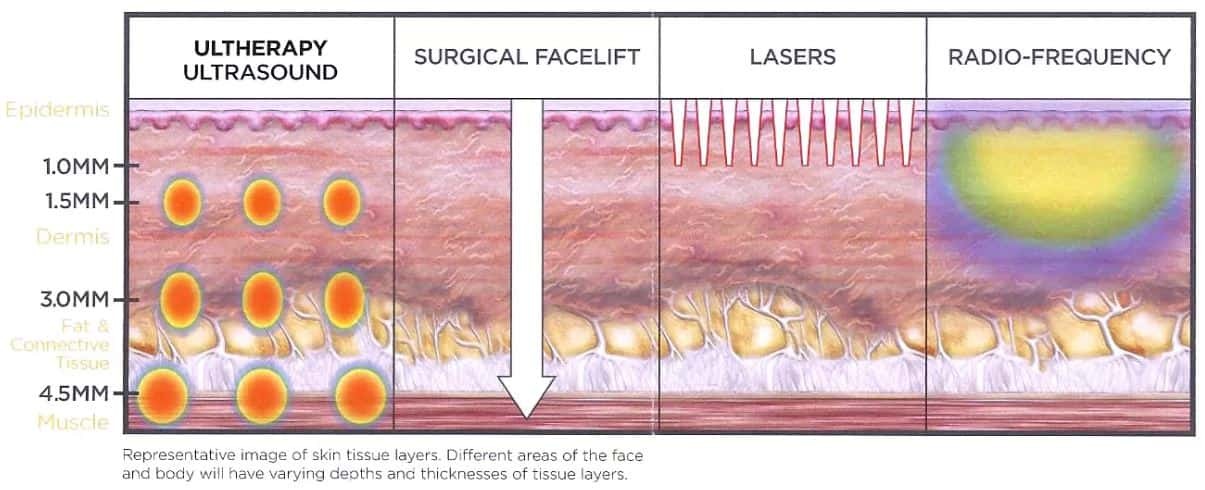 authorized by the US Food and Drug Administration (FDA) since 2009 for non-invasive eyebrow lifting, non-surgical lifting of the neck and sub-mental area (under the chin), and to improve fine lines and wrinkles cleavage (chest area) more than 526,000 skin tightening procedures without surgery such as ultra therapy were performed in 2016
In practice: How ULtherapy works
The procedure lasts between 30 and 90 minutes
No incision or general anesthesia required
Minimal preparation - Aseptic
Minimum recovery time to zero in most cases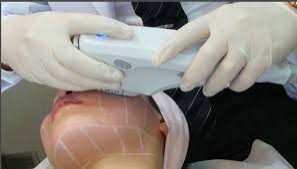 ULtherapy RATES
The price of ULtherapy varies between 500 and 2500 CHF, depending on the area or the number of areas treated. The cost of Ultherapy is also determined by the number of sessions required.
Knowing that the average cost of a non-surgical skin tightening procedure like Ultherapy was 1,800 CHF in 2016. Compared to a facelift, which costs an average of 7,500 CHF, Ultherapy is a cheaper alternative.
You can consult the rates in detail on our "PRICES" page
EFFICIENCY of ULtherapy - RESULTS
according to a clinical study, 65% of patients reported an improvement 60 to 180 days after treatment. 67% of patients were very satisfied or satisfied with the results 90 days after treatment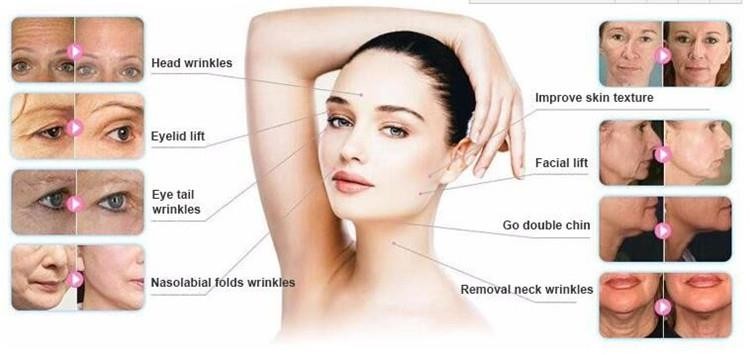 How to prepare for Ultherapy?
Preparation for the procedure is minimal. Regular routines for eating, drinking, exercising and working can be maintained before and immediately after the procedure.
You should remove makeup and other skin care products from the target area before treatment. If asked by your provider, you can take painkillers or anti-inflammatory drugs before the procedure begins. If these drugs affect your ability to drive, plan to pick you up from the office after treatment.
Technique used by Ultherapy?
Your doctor will cleanse the areas on which he plans to work with any cream or residue and apply an ultrasound gel. The Ultherapy device is placed against the skin and your doctor will use an ultrasound viewer to adjust the device to the appropriate settings. The ultrasonic energy is then delivered to the targeted areas. You may experience rapid, intermittent tingling sensations of heat during treatment. Pain relievers can be given to relieve any discomfort. At the end of the procedure, the applicator is removed.
A single procedure can take up to 90 minutes, depending on the treatment. The ULtherapy treatment on the chest takes about 30 minutes compared to the areas of the face and neck which can take 60 to 90 minutes.
Areas targeted by ULtherapy
It is most often used on the face, neck and chest. Other target areas include: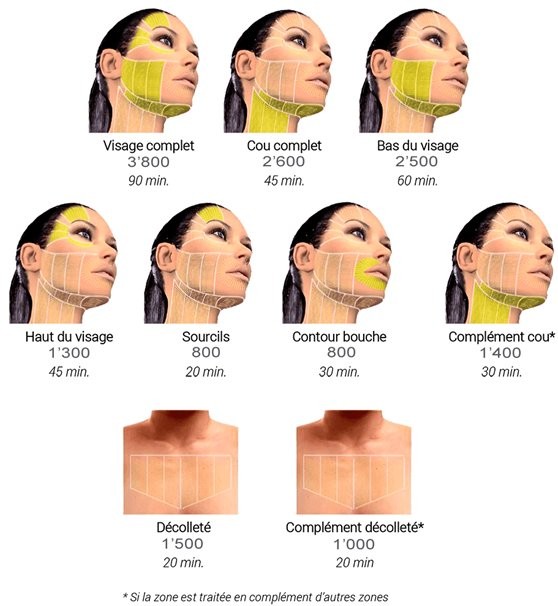 Eyebrows
Sagging under the chin
The neckline (chest)
Personalized treatment plans should be discussed during your consultation with a doctor who specializes in Ultherapy.
Are there any risks or side effects?
The warmth and tingling sensations usually go away soon after the procedure.
The treated skin areas can sometimes turn red or red within hours of the procedure, and short-term sensations, including tingling, swelling, and tenderness. On rare occasions, there may be bruising or numbness, but these usually go away a few days after the procedure.
What deadline for the first results?
There is generally no downtime associated with ULtherapy. Regular activities such as work, exercise or socializing can resume immediately after treatment.
You can start to notice the first results of Ultherapy in a few days, depending on your body's ability to produce new collagen. The improvement generally continues for up to three months. The results will last as long as your body continues to produce new collagen and until the natural aging process resumes. Depending on your skin's response to Ultherapy, you can decide if additional sessions are needed.